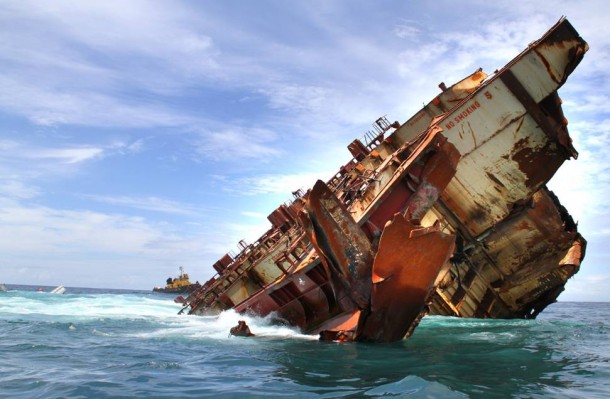 The Rena Oil Spill: a case study for the Maritime Passive Safety
In-depth case study on the Rena oil spill, New Zealand's worst maritime disaster, highlights the critical need for easy, rapid access to shipboard oil tanks
The Maritime Passive Safety Association (MPS) in partnership with JLMD Ecologic Group has launched their first Case Study that focuses on the 2500 TEU container ship Rena, which ran aground on the fragile Astrolabe Reef off the New Zealand coast on October 5, 2011. The Study reveals the logistical nightmare salvage teams faced during the first 36 days after the incident, and how the FOR (Fast Oil Recovery) System could have drastically changed the outcome of this environmentally-disastrous event.
"Raising awareness in the maritime industry, and with the general public, of the need for "passive" safety equipment like the FOR System in aiding quick access to oil and fuel tanks is what MPS and JLMD are strongly advocating for," says Gilles Longuève, MPS President and JLMD Ecologic Group's Managing Director. "While we are gaining much positive response, there remains the challenge of getting ship owners and operators and key stakeholders to change their mindset when it comes to being prepared for this kind of unfortunate eventuality."
The Rena was carrying 1,712 tonnes of oil on board and 1368 containers when she struck the reef, initially dumping approximately 350 tonnes of oil into the delicate eco-system and subsequently killing thousands of sea birds.
At every turn, salvors faced harsh, unpredictable weather and highly-dangerous conditions, especially when the ship began listing severely and lost power. Other challenges included the loss of a cofferdam built to assist in oil recovery that was damaged by severe weather, as well as having to continually add additional people and equipment to the process as one salvage plan after another had to be revised due to the changing stability of the ship. Salvors even considered hot tapping to get at some of the tanks. Crews worked around the clock while costs rose, media scrutiny intensified and public outcries escalated.
As the 21-page Rena Oil Spill: A Case Study For the FOR Systems points out, if the FOR System – built with the safety of salvors in mind – had been on board, the cost of this incident could have been reduced by as much as 50 percent, emphasizing the critical need for this innovative technology to be recognized and adopted as a standard part of effective maritime oil spill response strategies.
The FOR System, developed following 10 years of research by JLMD, is standardized permanently-installed passive safety equipment with a specific class notation issued from Bureau Véritas. It has been engineered to enable fast, easy access to cargo and bunker tanks to recover oil or hazardous materials through relatively simple means – tanks becomes accessible by connectors from the ship's upper deck. The system needs no maintenance, works with any kind of liquid pollutant, and can be installed in existing vessels as well as on new ships.
As the Case Study also highlights, the Rena incident, though as tragic as any maritime oil spill, is just one in a long line of historically calamitous oil spills that have wreaked havoc on the environment. Modern shipping is exploding with new mega size ships carrying goods around the world. But are modern oil response measures keeping up? The Rena incident clearly demonstrates they are not, as the race to remove dangerous and environmentally-toxic pollutants still remains a huge time, money and logistical challenge.
Now there is finally an efficient and cost-effective solution tailor-made for shipowners and salvors alike. The FOR System is the new environmentally-sustainable choice to help prevent and mitigate ship-source accidental pollution – because the maritime industry can no longer afford to risk further ecological disasters.